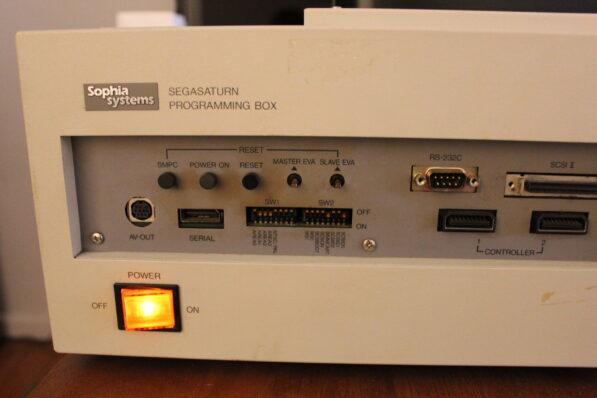 Here's some notes from my work on the Sega / Cross Systems Sophia. Please note that if no video is showing it might be worth switching the NTSC / PAL switch to NTSC (OFF) as there were some issues from memory. Doesn't mean much these days with TVs being 50 / 60Hz worldwide – Thanks globalisation!
Switch Bank 1
AREA0=ON
AREA1=ON
AREA2=OFF
AREA3=OFF
NTSC/PAL=ON
6=OFF
7=OFF
8=OFF
Switch Bank 2
WS0=OFF
WS1=OFF
SCSIBOOT=OFF
SCSI ON=OFF
SIMMCART=ON
6=OFF
7=OFF
8=ON
Notes:
– Sophia shipped with 1x 8MB RAM chip from factory, Samsung KMM5362000B2G-7, access time 70ns.
– A-Bus board is the top board with RAM slots. 32MB RAM maximum (4x8MB).
– Cable running from Sophia A-Bus board to SH-2 CPU cards is a branched EVA board power cable.
What I haven't been able to work out is the following:
– What are the HCD63 markings on Sophia.
– What is the EVA-PO-S / EVA-P0-S 4-pin header CN10 connector joins CN4 on SH-2 CPU Card.
– 171-6692B (ADK-7000) vs 171-6692D (HCD63) – Manufacturers perhaps?
Until we know, I guess we'll never know.