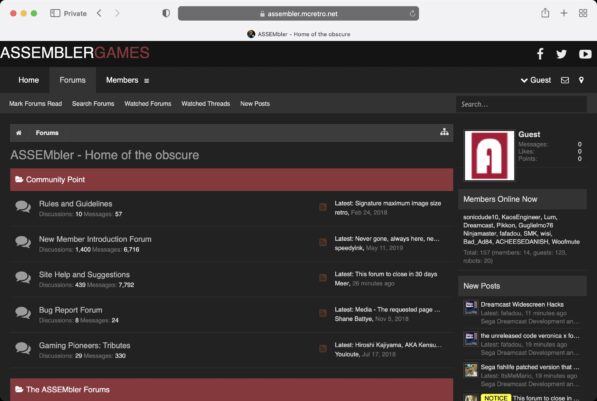 Assembler Games was a large part of my online presence in the 2010s and had a great bunch of people to converse with about retro hardware. For the history of Assembler Games, you can check out this archived link – History of ASSEMblergames.com
This was archived primarily by Nemesis when it was announced the forum was closing permanently. It has now been phoenixed on my little Raspberry Pi 4.
The search function is still being indexed so it might work if you are lucky. It's rough around the edges but that's OK. Google and Bing are frantically trying to index the sitemaps but they are also competing with GeoCities which has some 298,000 links found so far. As time goes by it should work a little better.
Obscure Gamers is a refuge for those who lost their home at Assembler Games all those years ago. Thank you Obscure Gamers!
And a big thank you to Nemesis and others for your work saving Assembler Games. Nemesis can be found at his highly accurate Sega Mega Drive emulator website.
Visit the archive at https://assembler.mcretro.net today!
P.S. If a link doesn't work, try right clicking and opening in a new window. I don't quite know how to fix that bug yet or that I will.
Update 2022-01-23
Posted to Obscure Gamers.
Update 2022-10-09
Unfortunately I've had to take this offline as it just isn't working properly. Maybe one day I'll put it back up but for now I'll leave it offline as Obscure Gamers exists for now.