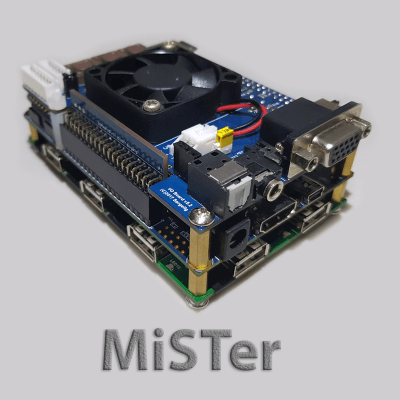 I finally got around to putting together my MiSTer FPGA. Below is a list of all the things I bought to get it into one piece. Sadly the case I so desire just is never in stock so I've just gone with an open design for the time being. Eventually it would be nice to have it wrapped up neatly but we can't have nice things these days, can we?
– Terasic DE10-Nano
– Noctua 40mm Fan NF-A4x10 5V 4500RPM
– 128MB SDRAM XSD (v2.5)
– IO board (v6.0)
– PCB Bottom Plate
– WiFi Dongle
– Bluetooth Dongle
– USB Hub (v1.2)
– USB Bridge Connector (Long)
– Solid Copper Heatsink
– Real Time Clock Board (v1.3)
– Audio Tape Input (v1.1)
– USB Bracket Connector
– Power Supply 5 Volt 4 Amps
– Inline Power Switch
– Power Supply Splitter Cable
Overall I am very impressed with the hardware compared with original consoles, so much that I have sold off any consoles and related FPGA carts (Terraonion carts for example). While playing Earth Defence Force on the Super Famicom you really get hit by the slowdown when there are too many sprites dancing around on the screen – which tends to happen in a shmup. It works exactly the same on the MiSTer – which made my day. Past cool!