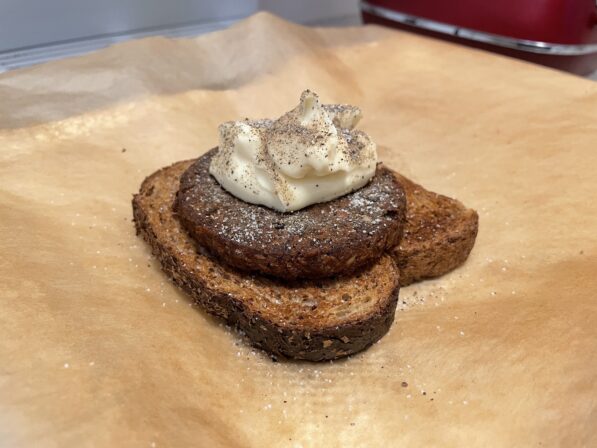 I've been called a lot of things in my time. Handsome, attractive, portly? But I have never been called a great cook. The above image is one of those fancy non-meat burgers, coupled with fake mayo on a healthy piece of toast. I started to test the waters with the vegan project back in late 2020.
My diet up until this had mainly consisted of chicken and fish (salmon) as primary sources of protein, with salmon becoming a greater part with each passing day. My weight was down to where I wanted it to be with a new goal of stability – something I had previously failed at. So why vegan and not vegetarian? Let's have a look!
Declining Quality
Lilydale started to sell their free-range chicken at my local supermarket for around twice the price of other leading brands. It tasted great and didn't seem as formed as other chicken, a shift had begun. My regular brand was therefore not free-range and likely from caged chickens. What quality of life did these caged animals have? Probably not much.
I carried on purchasing free-range chicken until that fateful day when I had that chicken katsu curry for lunch. Don't get me wrong. My local go-to for chicken katsu curry was amazing. I loved it… until that day. I'll never forget it. The chicken was the most formed chicken I had ever had the misfortune of tasting. I'd even argue that it wasn't chicken. That was it. I was sick of chicken, one of my core staple foods. My other staple was salmon, but after living with a big fish, my hunger for salmon was not as strong as it had once been.
Morals
After caring for parrots and fish, you can see we share a commonality with these animals. My conscience got the better of me. Creating life with endless suffering, forced to exist and then only to be destroyed, sometimes in the most inhumane ways. All living creatures deserve the best quality of life that we can offer. What's the point of being at the top of the evolutionary chain if you cannot protect the ones "beneath" you?
Health
Physically my health is acceptable. I've never been one to eat red meat – mainly due to being a little on the lazy side when it comes to cooking and cleaning in the kitchen. A side effect of this is a lower risk for heart disease, cancer, diabetes, and the big one – premature death. These are delicately balanced with being a junk-food vegan. I eat fungus nuggets, fake mayonnaise, plant-based meat patties and salt and vinegar dusted mixed nuts. I guess I have always been a junk-food person, but am now a junk-food vegan. You won't catch me eating lettuce on a burger, I'd rather inhale a packet of Oreos. I guess health hasn't been a strong driver for this shift, as long as it isn't more work then it's alright with me.
Old Age
Maybe this is just what happens when you get older. You start to crave sushi, fake mayonnaise, plant-based burger patties and the like. Or perhaps it is the sum of my experiences and a dear flexitarian friend showing me that other possibilities existed. While I didn't realise it at the time, it seems that maybe they were on to something. In hindsight, I am glad to have been shown that path and am very happy to continue along.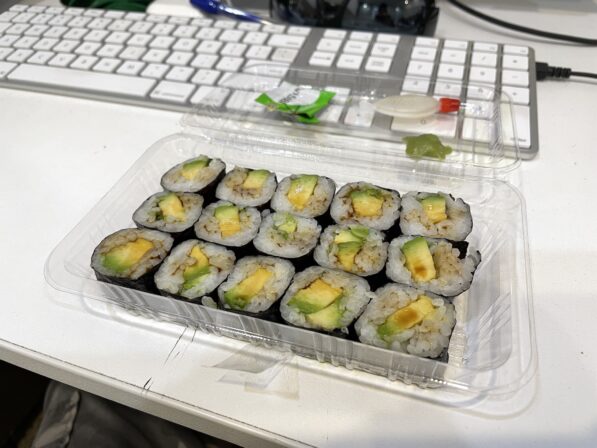 Raise your 15-avocado-baby-sushis and celebrate with me as I forge ahead into the unknown toward my one-year veganniversary, perhaps I will see you there one day! 🙂